NEW JERSEY DEPARTMENT OF ENVIRONMENTAL PROTECTION


ENVIRONMENTAL EDUCATION NEWS



Professional Development
& Classroom Materials




Return to EEdNews Homepage


CONTENTS:
Sustainable Jersey for Schools events
Webinar 5/19 | Innovative Ways to Fund Your School Garden Program
Professional Development at Duke Farms
HONEYWELL INSTITUTE FOR ECOSYSTEMS EDUCATION: A Framework for School Sustainability Using the Lens of Environmental Responsibility
Great News for Educators from Duke Farms
Celebrate the International Year of Soils! FREE Workshops
Free Science Field Training Program for Educators in Pine Barrens
DEP Publishes Centennial Update of State Geologic Map
Your Students - Butterfly Heroes!
Summer Workshops about the Hackensack River
Schedule A Pequest Educational Program Now!
Barnegat Bay Partnership Science Symposium & Teach at the Beach
NJESTA conference announcement
New Jersey Audubon invites you to attend these professional development institutes

Sustainable Jersey for Schools events (Posted: 5-14-15)


Sustainable Jersey for Schools Webinars
What Would You Do with $4,000 to Improve Student and Staff Wellness?
Monday, May 18, 2015 – 3:30-4:30 pm
REGISTER FOR THE WEBINAR --> https://attendee.gotowebinar.com/register/1644288119820915969

If your district or school is participating in Sustainable Jersey for Schools and serves students in Grade 6 or above, there is funding available to help you to implement health and wellness actions. The New Jersey Department of Health (NJ DOH), through its Maternal and Child Health Services Title V Block Grant, is providing $120,000 for a Sustainable Jersey Small Grants Program cycle. The cycle will fund thirty $4,000 awards to complete specific Sustainable Jersey for Schools health and wellness actions. Join us to learn more about the programs and activities that could be funded by this grant and the online grant application process. The grant application deadline is Friday, June 26, 2015. Notification of grant awards will be made by Friday, August 21, 2015 to implement actions in 2015-2016 school year.

Successful School Green Teams (Schools' Webinar)
Tuesday, May 19, 2015 -- 12:00-1:00
REGISTER FOR THE WEBINAR --> https://attendee.gotowebinar.com/register/3372375151460736257

Participants will learn from other schools and districts tools to enhance green team participation and strengthen partnerships. Additional clarification and guidance will be offered on fulfilling the requirements for the mandatory "Green Team" action.

Challenge Your School or Community To Be More Sustainable: Show How Small Actions Can Create Real Change
June 17, 2015 - 1:00 p.m. - 2:00 p.m.
REGISTER FOR THE WEBINAR --> https://attendee.gotowebinar.com/register/3365857247124995073

Is your school or town thinking about doing a green challenge? Sustainable Jersey's green challenge action asks people to pledge to "take a challenge," and to make a specific change in their lives or in their behavior towards greater sustainability.

Sounds like a good idea, but are you wondering how you'll decide what challenge to propose or how to keep track of pledges?

Sustainable Jersey is partnering with the Northwest Earth Institute (NWEI) to offer municipalities, schools, organizations or individuals the opportunity to prove that small actions create real change.

NWEI's EcoChallenge offers a great way to fulfill the "Green Challenges & Community Programs" action in both the Sustainable Jersey and Sustainable Jersey for Schools program(s), since it provides a ready-made challenge and system for tracking the collective impact of many people making sustainable changes in their everyday lives.

For two weeks, October 15-29, 2015, participants are challenged to change one habit for Earth. You ask your community or school members to choose their challenge, and they will be connected with other EcoChallengers, and collectively will prove that small actions create real change. This webinar will provide more information about the EcoChallenge, and explain how you and your town, school or organization can participate.

SHOW ME THE MONEY: Learn How to Finance Your Building Upgrades Through Energy Savings
June 24, 2015- 1:00 pm - 2:00 pm
REGISTER FOR THE WEBINAR --> https://attendee.gotowebinar.com/register/4699576946244172034

Do you have large municipal or school buildings that need upgrades such as high efficiency motors, transformers, water heaters or boilers? If you are wondering how to pay for these upgrades, this webinar will explain how to leverage energy savings from installing energy efficiency measures to cover upfront costs!

An Energy Savings Improvement Program (ESIP) is a financing tool that allows New Jersey municipalities and school districts to become more energy efficient, saving money and tax dollars!

Speakers include:
" Mike Thulen, NJ Clean Energy Program
" Tony O'Donnell, Sustainable Jersey

You'll hear about Sustainable Jersey's ESIP How To Guide and find out about:
" Current state law regarding ESIPs
" The nine step process to develop and implement an ESIP
" NJ Clean Energy Programs that can provide additional financial and technical assistance for your project
" Lessons learned from organizations that have undertaken ESIPs

There will be time for Questions and Answers.

CHECK THE SUSTAINABLE JERSEY CALENDAR and THE SUSTAINABLE JERSEY FOR SCHOOLS CALENDAR ON OUR WEBSITES FOR FURTHER DETAILS AND MORE INFORMATION ON UPCOMING EVENTS or to REGISTER FOR EVENTS! Learn about regional hub events, co-sponsored events, and events where Sustainable Jersey is speaking, as well as events of interest to municipal green teams.
Webinar 5/19 | Innovative Ways to Fund Your School Garden Program (Posted: 5-14-15)


Join us for the next Growing School Gardens webinar!

Tuesday, May 19 at 4 p.m. Eastern Time
Innovative Ways to Fund Your School Garden Program
Presented by John Fisher, Director of Programs and Partnerships for Life Lab; with Kevin Hesser, Middle School Teacher and Co-Director of Gardens to Grow In

In This Session
There is no one way to fund a garden program - there are hundreds! In this webinar, Life Lab's John Fisher and Gardens to Grow In's Kevin Hesser will share a wide variety of ideas to finance your school garden program. From finding grants and supportive policy, to school garden micro-enterprise and farm-raisers, their discussion will provide funding ideas for all aspects of your school garden, including garden supplies and staffing school garden instructors. John and Kevin's presentation will share examples of how they have funded the school garden programs that they run, along with insight from other successful garden programs. Topics will include:
Tools for creating a garden budget
Telling your story
Garnering school or district support
Cultivating donors
Farm and garden based fundraisers
Tips for finding grants
Policy that supports school garden programs
Innovative ways to fund a garden program
Join this live, interactive session to learn new ways to fund your new or existing school garden program. John and Kevin will field questions from attendees after their presentation.
To Participate in the Live Session
- This webinar will be recorded and archived in this community for viewing at anytime.
About the Presenters
John Fisher
is the Director of Programs and Partnerships for
Life Lab
. Through his work at Life Lab, John provides training and support to thousands of garden educators across the nation. John is a co-founder of the California School Garden and National School Garden Networks. He coordinates the garden program at Pacific Elementary School in Davenport, California. Follow John on Twitter
@lifelabtweets
.
Kevin Hesser
is a school teacher and garden coordinator in Calaveras Unified School District. He teaches art, gardening, and cooking at Toyon Middle School, and supports garden programs at several elementary schools and the high school farm. Kevin co-founded
Gardens to Grow In
, a 501(c)3 non-profit that supports and promotes healthy and sustainable lifestyles in Calaveras County schools and communities by teaching children and families how to grow and prepare healthy food through school and community garden based programs.
Follow us on Twitter
@edWebnet
to learn about upcoming webinars and special events!
Professional Development at Duke Farms (Posted: 5-11-15)


Duke Farms- Hillsborough, NJ
Professional Development Workshops
http://dukefarms.org/en/Programs/educators/Professional-Development/

Contact: Tanya Sulikowski, Education Manager for more information tsulikowski@dukefarms.org

Poetry in Nature
July 18 from 1pm to 3:30pm
Cost: $15 per person
Participants will explore the ability of poetry to express the beauty of the natural world amidst the lakes, trees, and meadows of Duke Farms. Poetry taps into our cognitive, emotional, creative, and social selves, and whether we share the poems of others or write poetry ourselves, sharing nature poetry with like-minded individuals in this workshop will remind us of the power of poetry and of our important role as stewards of this landscape we call earth. Come read, write, and share!

Rain Gardens as Outdoor Classrooms
July 28 from 9a to 4p
Cost: $50 per educator
This one-day course introduces educators to the concept of rain gardens and their value as schoolyard habitats. Participants will understand how rain gardens benefit the environment by improving the watershed and how they can be used as an extension of the classroom. Participants will leave with the basic knowledge of how to plan, design, and implement a rain garden from start to finish.
Participants need to bring a lunch, a refillable water bottle, weather-appropriate outdoor clothing/gear.

WOW! The Wonders of Wetlands
July 29 from 9a to 4p
Cost: $45 per educator
WOW! introduces participants to wetland ecology through a study of the three parameters of wetlands: vegetation, soils and hydrology. Participants will also learn about wetland functions and values by utilizing K-12 cross curricular, inquiry based activities. Leave with a wetland resource guide with over 50 hands-on, multidisciplinary activities, and ideas for student action projects.
Participants need to bring a lunch, a refillable water bottle, weather-appropriate outdoor clothing/gear.

WOW! The Wonders of Wetlands - Facilitator Training
July 30 from 9:00a to 4p
Cost: $50 per educator
During this training (WOW! is a pre-requisite) participants continue their study of wetlands, practice additional activities included in the book, but not covered on day one, and learn the processes of leading WOW! Workshops and protocols of the nationwide WOW! Facilitator Network.
Participants need to bring a lunch, a refillable water bottle, weather-appropriate outdoor clothing/gear.

Teaching and Learning with Monarch Butterflies
August 10 and 11 (8:30am to 4pm daily)
Cost: $25 per educator
Each fall, monarch butterflies from the U.S. and Canada begin a 2,000 mile migration to Mexico; in following spring, their great grandchildren return. 'Teaching and Learning With Monarch Butterflies' is a two-day workshop combining classroom and field experiences where participants are taught by a team of experienced educators that provide participants with the knowledge, skills, materials and confidence to raise monarchs on their own.
This workshop enables pre-K through 12th grade educators to teach essential skills in literacy, math, science, geography, technology, Spanish, the arts and social studies… through the captivating story of monarchs (but isn't limited to educators).
Each participant receives: Hands-on instruction by experienced teachers; Rearing cages, books, posters, DVDs and other essential materials; Strategies for creating butterfly gardens; Activities for any subject area; Proven models for engaging community support; On-going support.

Voices from the Land: Integrating Language and Landscape, Art and Culture
October 9 and 10 (8:30am to 4pm on 10/09 and 8:30am to 1pm on 10/10)
Cost: $25 per educator
The Voices from the Land project and this workshop (for educators of pre-k to 12, naturalists, artists and other adults) is a celebration of oral and written language… of natural science, art, performance and technology. Taught by veteran teachers, participants experience all aspects of a Voices project, learning strategies for connecting children to natural landscapes… fostering a love for the natural world.
Through this workshop, participants learn how to help children work in small groups as they explore and discover a natural site, using art concepts and skills to create art from natural materials. Communication skills (oral and written) are used to create, edit and publish poetry. Digital technologies are used to document and share the art then students help layout, design and publish a full-color book of their art and poetry… or full-color posters that showcase their work. Finally, students develop performance strategies to share their work.
HONEYWELL INSTITUTE FOR ECOSYSTEMS EDUCATION: A Framework for School Sustainability Using the Lens of Environmental Responsibility (Posted: 5-11-15)


For Jersey City Teachers (Grades 6 - 12) - full scholarships provided
Conducted by New Jersey Audubon Society in cooperation with Jersey City Schools
August 24 - 27, 2015

To register by JUNE 5: www.njaudubon.org/SectionEducation/HIEE2015.aspx

Energy, water, climate change, biodiversity, and consumption/waste are among the most prominent topics in the media, business, and politics today. As an educator, you have a unique opportunity to help your students better understand these issues, how they relate to the environment, and the desire to have more sustainable communities.

Honeywell Hometown Solutions, the company's corporate citizenship initiative, and New Jersey Audubon (NJA) are partnering to host Honeywell Institute for Ecosystems Education: A Framework for School Sustainability Using the Lens of Environmental Responsibility. This integrated program offers practical hands-on learning to inspire students to take a more active role in preserving the environment, helping their school community become more sustainable, and acquiring critical thinking and problem solving skills.

The institute will use the Eco-Schools USA framework to empower teachers to identify and solve problems through project-based learning. They will utilize local resources, technology, and other avenues to participate in a modeling-approach to education. This innovative program includes:
Full tuition for 4-day summer institute
24 professional development hours
$500 mini-grant for successful completion to be used during 2015-2016 school year
Jersey City Board of Education-approved weekly stipend
Resources to better understand environmental issues, local habitats, and watershed dynamics
50 percent or more of each day spent outdoors in a variety of city locations and habitats
Content and skills that support the Next Generation Science Standards and Common Core Standards

Ms. Dale Rosselet
Vice-president for Education
New Jersey Audubon

Center for Research and Education
600 Route 47 North
Cape May Court House, NJ 08210
609-861-1608 x14
www.njaudubon.org
Great News for Educators from Duke Farms (Posted: 5-11-15)


Click HERE.
Celebrate the International Year of Soils! FREE Workshops (Posted: 5-4-15)


Educational Workshops and Programs
Celebrating the 2015 International Year of Soils

Saturday, May 30, 1:00-2:30pm
Rain Garden Workshop and Tour
This workshop teaches the basics of designing and planting a Rain Garden for Barnegat Bay watershed homeowners. Make your yard a sponge! Prevent flooding and erosion, recharge our groundwater drinking supply and provide habitat for wildlife. We will tour the SHIP native plant demonstration gardens to see what an authentic Rain Garden looks like and how it works. Presented by the Ocean County Soil Conservation District in partnership with AmeriCorp NJ Watershed Ambassador Program. FREE. Location: Jakes Branch County Park. Pre-registration required, limited seating. Contact Becky Laboy, Education Outreach Specialist, Ocean County Soil Conservation District, 609-971-7002 ext 21 or education@soildistrict.org

Sunday, June 28, 1:00-2:30pm
Native Plant Gardening Workshop and Tour
Gardening with native plants offers many benefits including low maintenance, water conservation, healthy soil, and wildlife habitat. Learn about the beautiful native plants of the Jersey Shore and Pinelands regions through this interactive workshop and tour of the SHIP native plant demonstration gardens - highlighting the Sun Garden, Shade Garden and Butterfly Garden. Presented by the Ocean County Soil Conservation District in partnership with Ocean County Parks. FREE. Location: Jake's Branch County Park. Pre-registration required, seating is limited. For more information contact Becky Laboy, Education Outreach Specialist, Ocean County Soil Conservation District, 609-971-7002 ext 21 or education@soildistrict.org

Educational Workshops, Programs and Community Outreach
The Ocean County Soil Conservation District strives to lead efforts to protect and conserve our soil and water resources by providing educational programs to members of the community, including homeowners, teachers, students, scouts, farmers, public officials, various state and federal agencies and non-profit organizations. For more information about the educational programs offered by the Ocean County Soil Conservation District, or to schedule a program for your group, please contact Becky Laboy, Education Outreach Specialist, at education@soildistrict.org or 609-971-7002 ext. 21. A wealth of information can be found on our website: www.soildistrict.org.

Ocean County Soil Conservation District
714 Lacey Road
Forked River, NJ 08731
(609) 971-7002
Free Science Field Training Program for Educators in Pine Barrens (Posted: 4-30-15)


Click HERE.
DEP Publishes Centennial Update of State Geologic Map (Posted: 4-30-15)


DEP PUBLISHES CENTENNIAL UPDATE OF STATE GEOLOGIC MAP

NEW, POSTER-SIZED MAP PROVIDES DETAIL AND CLARITY TO ROCK FORMATIONS BENEATH NEW JERSEY

(15/P30) TRENTON – A map detailing New Jersey's statewide geologic formations has been updated with the latest science and mapping information. It commemorates a map first published more than a century ago, Department of Environmental Protection Commissioner Bob Martin announced today.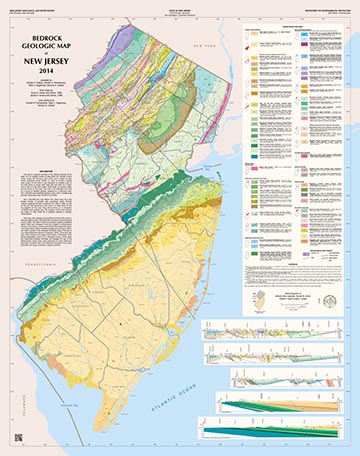 The new poster-size map, developed by the New Jersey Geological and Water Survey within the DEP, will prove useful not only to geology lovers but to engineers, well drillers, planners, educators and other professionals.

"Right beneath our feet is a rich, complex story of geology going back a billion years," said State Geologist Karl Muessig. "Printed on quality poster-size paper, the new Bedrock Geologic Map of New Jersey features high-end graphics that will shed new light and detail on the many geologic formations that stack up like a layer cake thousands of feet thick beneath our state."
The vintage 1914 map has been in demand but out of print for many years, despite numerous re-printings by State Geologists Henry B. Kummel in 1931, Meredith E. Johnson in 1950, and by Kemble Widmer in the early 1960s.
For its new look, the updated map was compiled with data from a cooperative mapping program between the NJGWS and U.S. Geological Survey. It was produced by a team of geologists including Richard Dalton, Donald Monteverde, Peter Sugarman and Richard Volkert.
Founded in 1835, the NJGWS is one of the oldest Geologic Survey organizations in the United States and has an honored history of producing maps and documents depicting and describing the geology of the Garden State. This latest publication continues the organization's 180-year-old mission to provide important information about earth science.
For additional details about the updated bedrock geologic map, visit: http://njgeology.org/enviroed/newsletter/v10n2.pdf. To purchase a copy of the new map, which costs $20 and includes shipping, visit: http://www.nj.gov/dep/njgs/pricelst/bedrock250.htm.
Your Students - Butterfly Heroes! (Posted: 4-29-15)


Click HERE.
Summer Workshops about the Hackensack River (Posted: 4-29-15)


From the Ice Age to Sea Level Rise-Connecting the Hackensack's Past, Present, and Future

Organized by Dr. Michael J Passow
13 - 17 Jul 2015 (and 2 days during Fall 2015-Oct 3/LDEO Open House and 21 Nov)
Supported by the Robert and Catherine Murray Foundation

Overview: This week-long summer workshop will develop a suite of educational resources to teach about the fascinating geologic and social history of the Hackensack Meadowlands and River in the Newark Lowlands. We will combine written descriptions of the geologic history and historical development of the region with field trips to representative locations, and forecasts for future impacts from rising sea level and climate changes. Open to selected middle and high school Earth and Environmental Science teachers in Districts within the study area, this program receives support from the Robert and Catherine Murray Foundation. Results of the summer curriculum development will be disseminated through fall workshops offered by Earth2Class Workshops at the Lamont-Doherty Earth Observatory, online through our website, http://www.earth2class.org/site, and an article submitted to The Earth Scientist, quarterly journal of the National Earth Science Teachers Association.

Format: During the week of 13 - 17 July, selected participants will meet at the Lamont campus of Columbia University to examine existing scientific and educational resources, State and National Science Education Standards, and other materials to begin development of teaching materials. Included in this week will be field experiences to sites in Rockland, Bergen, and Hudson Counties, including exploration by kayak/canoe. By the end of the week, participants will return to their homes with challenges to continue to refine preliminary products, share these through web-based discussion boards, and test draft lessons with their students.
Then, probably in October or November, participants will gather again at Lamont to present their work to a wider audience This two-day meeting may take the form of either an Earth2Class Workshop or LDEO Open House sessions, and a final session to post online versions of completed products.
Subsequently, Dr. Passow and participants will write the manuscript for a contribution to The Earth Scientist describing the program.

Selection of Participants: Target audiences for these products are middle and high school students in schools within the Hackensack region, which roughly extends from the Newark vicinity northward into Rockland County. Applications will be sought from Earth and/or Environmental Science teachers in public and private schools within this region. Selection criteria will include, but not be limited to: academic and teaching background; writing, speaking, and technology skills; District and school demographics; and related factors. Participants must commit to attend the five-day summer and the two-day fall weekend sessions.
Participants will receive support for their travel, food during the work sessions, a contribution toward expenses in preparing classroom materials, and a one-year membership in the National Earth Science Teachers Association.

"From the Ice Age to Sea Level Rise-Connecting the Hackensack's Past, Present, and Future"

Tentative Program Schedule:

Mon, 13 Jul
Welcome to program & LDEO. Overview of NGSS & NJ Standards. Overview of Hackensack Study Area. Goals for products. Begin examination of resources (print and online). Tour of campus.
Tue., 14 Jul
Group discussions of curricula needs and potential impediments. Continued exploration of resources and initial brain-storming of products.
Wed. 15 Jul
Field experiences from Hackensack Meadowlands (Laurel Hill, MERI Environmental Center) through Rockland County.
Thu, 16 Jul
Continued refinement of products, incorporating field experiences.
Fri., 17 Jul
Wrap-up of group activities; share-out; "charges" for continued work.

Fall Saturday 1 (3 Oct )
Sharing of activities and results from class pilot testing.
Fall Saturday 2 (21 Nov)
Sharing of project through Earth2Class Workshop.
Subsequently
>Article for NESTA quarterly journal, The Earth Scientist
>Evaluation of project
>Report for Murray Foundation
>Presentation in NJESTA &/or NJSTA &/or other conference venue.

Timetable for Selection of Participants
" March-April: Announcements of opportunity through list-servs, e-mails to area high schools and middle schools, other venues
" April-mid-May: Applications due to MJP
" May: Notification of acceptance/wait-list/non-acceptance
" June: Mailings to accepted participants with planning information
" July: Registration upon arrival
Schedule A Pequest Educational Program Now! (Posted: 4-29-15)


Those looking for a fun, educational day for a scout, camp or other group should act now to schedule a program at the Pequest Trout Hatchery. Programs include hatchery tours, fishing basics, hikes and more. Limited summer program dates remain available.

To schedule a group program, please visit http://www.njfishandwildlife.com/peqprog.htm for more information or to request a program.

To learn more about Pequest, visit http://www.njfishandwildlife.com/pequest.htm on the NJDEP Division of Fish and Wildlife website.
Barnegat Bay Partnership Science Symposium & Teach at the Beach (Posted: 4-29-15)


The Barnegat Bay Partnership is hosting a Science Symposium at Ocean County College on May 27th from 9:00 a.m. to 4:00 p.m. Please join us to hear about the latest research, which provides critical information for managing efforts to protect and restore the Barnegat Bay estuary. We have a great line-up of experts in their respective fields participating in the Symposium.

This event is about using science to guide management, build awareness, and improve stewardship today and for future generations to have the greatest positive impact on the Barnegat Bay and its watershed. The morning session will focus on "Human Responses to a Changing Environment" and will include a panel discussion, "How Can Science Inform Policy and Management Decisions for a Changing Bay?" There will be two afternoon sessions, "Environmental Indicators in Barnegat Bay" and "The Response of Critical Habitats to Disturbances."

Click here for the Symposium Agenda (also attached to this email). Attendance at the Science Symposium is FREE. Lunch will be on your own. There is a cafeteria on campus and other options off campus.

Register now for the Science Symposium - your registration will help us plan for the event.

Please contact Mary Judge (mjudge@ocean.edu or 732-914-8102) if you have any questions about the Science Symposium or the registration process. We look forward to seeing you there.
*********************************************
This year's Teach at the Beach, a Professional Development Workshop organized by the NJ Marine Education Association, will be held at Tuckerton Seaport on May 29th. Participants will earn 6 credits by attending this great event. Feel free to share this information with your educator contact lists, post on Facebook, etc. Contact Melanie Reding (reding@marine.rutgers.edu) if you have any questions.

The New Jersey Marine Education Association's annual Teach At the Beach Professional Development Event is just around the corner on May 29th. But don't worry you still have time to register!

This year's theme is Ocean Literacy Principle #6- The Ocean and Humans are Inextricably Interconnected. Teach at the Beach is co-hosted this year by the Tuckerton Seaport and the Jacques Cousteau National Estuarine Research Reserve in Tuckerton, NJ. You'll enjoy a full day of educational and fun sessions such as:
" Seining and the Salt Marsh
" Fisheries in a Changing Climate
" Lessons from Turtles and Terrapins
" How Basic is Ocean Acidification
" Estuaries 101
" Rutgers Field Station and Seaport Tours
" and many more!!

To learn more and/or to register visit our website at http://www.njmarineed.com/T@TB2015

Barnegat Bay Partnership
Ocean County College
College Drive
PO Box 2001
Toms River, NJ 08753
Ph: 732-914-8102
Fx: 732-914-8100
bbp.ocean.edu
NJESTA conference announcement (Posted: 4-29-15)


"Exploring New Jersey's Geology & Energy Future"

Saturday, May 23, 2015
Sterling Hill Mining Museum
9:00 AM to 2:00 PM
(PD hours, light breakfast & lunch included)

The 31st Annual New Jersey Earth Science Teachers Association Conference: "Exploring New Jersey's Geology & Energy Future" will take place on Saturday, May 23rd from 9:00 AM to 2:00 PM with an optional field trip after the conference. The conference will take place at the world famous Sterling Hill Mining Museum in Ogdensburg, NJ, NJESTA's new home base! To celebrate our new location the conference will focus on all the wonderful geologic amenities offered by SHMM. The conference will include speakers, a tour, and an optional field trip to a local (about 8 miles away) outcrop after the conference. The conference fee is $20 for NJESTA members, and $35 for NJESTA non-members which includes a 1-year NJESTA membership. The fee includes a light breakfast, lunch, door prizes, free maps and posters, and many other give-aways!

RSVP, or if you have any questions, please contact NJESTA President Marc Rogoff at njestaweb@gmail.com.

CONFERENCE AGENDA

9:00 - 9:30
Registration & check-in (Light Breakfast)
9:30 - 11:00
NJ's Energy Future - Karl Muessig, State Geologist, NJGWS
Exclusive viewing of sequences from the acclaimed movie SWITCH including classroom applications and correlations to the NGSS.
11:15 - 11:30
Annual Meeting and Awards
11:30 - 12:30
Lunch and networking
12:30 - 2:00
Exclusive behind the scenes Mine Tour with Bill Kroth
2:00 - 2:30
Gift shop & transition to optional afternoon activities
2:30
Field Trip - Gingerbread Castle - Stromatolite site
Tour of Zoebel Hall & Warren Museum
New Jersey Audubon invites you to attend these professional development institutes (Posted: 3-2-15)


INVESTIGATING ENVIRONMENTAL ISSUES IN THE RARITAN WATERSHED

July 20 to 24, 2015
at Duke Farms in Hillsborough
For teachers in grades 5 through 12
Sponsored by Duke Farms; FREE

Deepen your understanding of the environmental issues facing society from the perspective of the local watershed. Lessons will be drawn from a spectrum of topics including water quantity and quality, sustainable land use and environmental practices, and native species protection and invasive species control. Also included will be information on the Eco-Schools New Jersey program that supports sustainable practices through the development of school-based eco-teams.

TEACHERS' SCHOOL OF ECOLOGY

August 10 to 14, 2015
at NJ Audubon's Scherman Hoffman Wildlife Sanctuary in Bernardsville
For elementary and middle school teachers
Sponsored by Ashland, Inc. - FREE

This weeklong program offers in-depth experiences that use inquiry as a basis for building effective field studies and understanding environmental issues. Lessons will be drawn from a spectrum of topics including water quantity and quality, sustainable land use and environmental practices, and native species protection and invasive species control. We will focus on a different set of issues each day and provide field experience, lessons and resources to support your existing curricula. Also included will be information on the Eco-Schools New Jersey program that supports sustainable practices through the development of school-based eco-teams.

Ms. Dale Rosselet
Vice-president for Education
New Jersey Audubon

Center for Research and Education
600 Route 47 North
Cape May Court House, NJ 08210
609-861-1608 x14
www.njaudubon.org
Archived PROFESSIONAL DEVELOPMENT & CLASSROOM MATERIALS are available upon request throught the webmaster.